For transboundary transportation of goods, requirements of customs authorities must be taken into consideration and appropriate documents must be available for goods subject to customs declaration. We obtain information in advance from carriers and official sources regarding all documents necessary for transportation.
We also analyze the route and traffic conditions in advance to get ready in due time for possible problems and to find solutions. As a whole, transportation of goods between Poland and Ukraine is safe subject to the transportation conditions and traffic situation analyzed in advance.
Key goods:
The main goods transported from Ukraine to Poland are foodstuffs, textile, electronic equipment, metal products, woodwork and furniture and, also, equipment for industry and agriculture. Moreover, the amount of transportation of agricultural products, such as grain, sugar, vegetables and fruit, has increased significantly recently. Important goods in traffic between these countries are also those involved in extraction and processing of oil and gas because Ukraine is a major producer of these resources.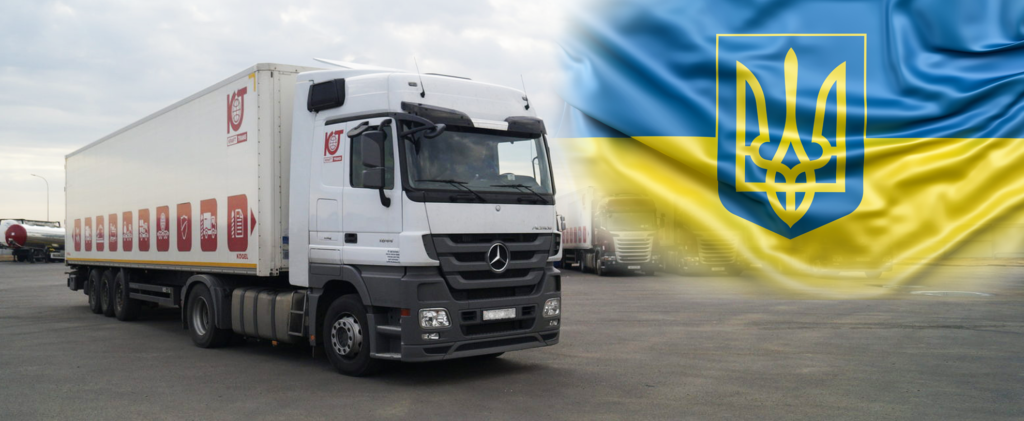 Major directions:
Poland – Ukraine / Ukraine — Poland
Germany – Ukraine / Ukraine – Germany
The following documents are necessary for transportation of goods between Poland and Ukraine:
1. The invoice, a document confirming the existence of the contract for purchase and sale and containing information on goods cost, quantity, payment and delivery terms and conditions.
2. The consignment note, a document confirming the right for transportation of goods and containing information on the goods, consignor, consignee, delivery route and transportation conditions.
3. The certificate of conformity, a document confirming the goods conformity with the requirements of safety, quality and environmental compatibility.
4. The declaration of conformity, a document confirming the goods conformity with technical and qualitative characteristics specified by the legislation.
5. The permission for individual transportation, a document necessary for transportation of goods in an automobile or other vehicle.
6. The vehicle certificate of title, a document confirming the right of ownership for the vehicle and certifying its technical characteristics.
Major routes through Ukraine
1. International automobile route E40 is one of the most important European routes from Cologne (Germany) through Poland, Ukraine, Belarus and Russia to the boundary of Kazakhstan and China. This route plays an important role in trade and economic development of the region and in provision of the transport link between Europe and Asia.
2. International railway route is a route through Ukraine, Slovakia and Hungary. It is one of key routes for transportation of goods between Western Europe and Ukraine and between Ukraine and Central Asia.
3. International automobile route E50 is a route, with its length over 5000 km, through France, Switzerland, Italy, Slovenia, Croatia, Serbia, Bulgaria, Turkey, with the final point in Georgia. The part of this route runs through Ukraine, making it important for trade and commerce in this region.
4. Trans-Siberian Railway is a railway route that runs from Moscow, through Kazakhstan and Ukraine, and enters China, with the final point in ports on the Pacific. This is a major route for export and import of goods in Asian region.
5. Trans-European transport corridor No. 5 is an automobile route from Lisbon (Portugal) through Spain, France, Belgium, Germany, Poland, Ukraine, Russia and Kazakhstan, with the final point in Uralsk (Kazakhstan). This is a key route for transportation of goods between Western Europe and Central Asia through Ukraine.
Advantages of KRAFTTRANS company in PL — UA transportation of goods
We provide a number of advantages in transportation of goods by automobiles from Ukraine to Poland:
1. Experience and knowledge: We have experience and knowledge in transportation of goods and we can help you to choose an optimal route, time and mode of transport for your goods transportation.
2. Time saving: Because the logistics company has its own resources and connections, it can organize transportation of goods sooner than if you would do it yourselves. This is also helps to save time and reduce risks of delays.
3. Money saving: We can help you to choose the most optimal routes to reduce expenses for transportation of goods.
4. Goods safety: We can provide safety of your goods during transportation by protection against possible damages and making sure that they will be delivered intact and save.
5. Logistics management services: The logistics company can provide services in logistics management that include the route planning, goods control, warehouse and documentation management resulting in reduction of costs and risk of delays.
We hope that this information is useful for you. If you still have questions, please don't hesitate to ask them.
Choose KRAFTTRANS!