Over these 25 years, KRAFTTRANS has developed from a small business started by two friends into a major European company headquartered in Vienna, Austria. On a daily basis, our staff of 300 employees ship cargo to a total of 130 countries, communicating with Customers in 8 languages and offering the most beautiful solutions possible in full accordance with Austria's quality standards.
"We have reached towering heights, achieved strong results and successfully handled multiple interesting international transport projects. Over these years, we have learned a lot and grown as a team. We treat our work as a calling. We have shared goals, shared victories, shared interests and even shared stories. We have had our ups and downs, crises and successes – but, through it all, we have become more professional, flexible, prepared to respond to changes, find unconventional solutions and go the extra mile – while remaining optimistic even in extremely difficult and stressful situations. We believe we currently have a team of like-minded individuals who share our company's values and goals" says Dmitry Gannota CEO KRAFTTRANS, EMBA
It's now time to tell what makes us successful.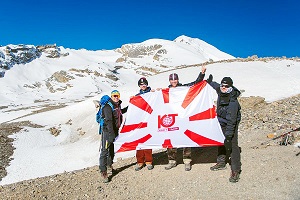 Dream team
There are many specialists – but few professionals. Every true professional is worth his or her weight in gold. Therefore, we invest a lot in our employees. We invest in staff training, including advanced training as well as in internships and experience exchange. Training is provided via KRAFTTRANS' Corporate University as well as online – via our electronic education platform, which has allowed us to ensure "knowledge migration" amid a global pandemic.
It is also important to know that KRAFTTRANS is one of the few companies with a low employee turnover rate. We seldom lose people – and we never leave our people in trouble. Even when Europe was paralysed by its quarantine, all our employees in all of our branch offices kept their jobs. Skills and experience gained while handling super complex projects for many years on end make our every employee a treasure.
We strive to create a comfortable environment for everybody. We are open to employee relocation. A demand for a particular employee can emerge in any city. We have 16 branch offices in 5 countries, so borders are no obstacles for us.
We are one large team. Together, we solve problems and reach new heights, both literally and figuratively speaking – our mountaineering tradition is a great proof of this.
KRAFTTRANS + Customer = Reliable Partnership
Our Customer relations are based on the following principle: viewing Customers as Partners. It's a very special kind of cooperation, which presupposes a particularly high level of trust. Just delivering the cargo from point A to point B doesn't suffice. We strive to help the Customer develop his or her business, make it more successful and profitable. And – we are important owing to how much logistics matters these days!
We carry out over 3,000 orders per month. We can boast a record efficiency rate of 98%. Our approach is always customer-oriented – however, there are uniform assessment criteria. By default, we offer 9 Key Performance Indicators (KPIs) – the list can be expanded by adding new terms and conditions. At the same time, our company remains competitive price-wise.
We help many kinds of Customers – above all, large wholesale companies that sell equipment, construction materials, household chemicals and foodstuffs. We are trusted by suppliers, plants, factories and other manufacturing companies – as well as by small, medium and large retailers. We value our every Partner and do our best to meet his or her expectations.
Interesting projects
At KRAFTTRANS, we constantly handle projects of different complexity levels, so it is hardly possible for our employee to not get promoted for a long time. Some of the projects are nothing short of unusual, e.g. shipping electromobiles, supercars, artificial turf for a world hockey championship – or a painting by Nicholas Roerich from Moscow, Russia, to New York, USA. What tremendous effort it takes to transport a concrete factory from Denmark or a wind power plant from Germany! Sometimes, you even have to deliver ice cream to South America!
We ship cargo to a total of 130 countries – we are ready to ship things to the ends of the earth if necessary! We often handle pretty big projects… We once had to use 300 transport trucks, for another project – almost 3,000 tractors. We even had to ship 200,000 tons of bulked cargo from Africa once… Imagine the scale!
Our truck fleet comprises 150 vehicles, including 27 new tank trucks. Our network of transporters comprises over 50,000 vehicles ready to quickly transport cargo. The combined area of our warehouses amounts to 30,000 m2. Therefore, we are perfectly equipped to take on even seemingly "inexecutable" projects.
Perfectly tuned and seamless processes
With us, delivery literally runs like clockwork. Every process is monitored in real time – not only by our employees, but also by the Owner of the cargo. Every single day, we prepare documents and notify the Customer about the status and location of their cargo. While your goods are being delivered, you receive cargo location reports every day in the morning. You can also check cargo location all by yourself using an online app on our website – a cargo tracking module.
Over this quarter of a century, we have completed about 500,000 cargo shipments by road, rail, sea and air. Among them are multimodal delivery schemes. We always consider a variety of cargo delivery methods – and offer you the most beautiful of the multiple passing solutions. We work with all types of cargo: general, hazardous, valuable, heavy and oversized.
Our team has learned to tackle all kinds of problems. We always make sure our Partners remain calm and confident in the complete safety of the cargo as well as in the proper timing of the delivery – and we always try to go the extra mile to ensure extra comfort. Today, we not only deliver goods, but also take on other kinds of tasks, offering comprehensive solutions involving storage as well as customs and insurance clearance. There is no doubt that the highest performance standards are always maintained.
One quarter of a century is quite a lot! Yet, these 25 years have flashed past like lightning – and it's now time to continue our incredible journey!